When is the best time of year to visit New York?
Is there better month to visit New York?
The answer is it depends on what you want to see and do and your budget.
New York is a year-round tourism destination. Of course, the New York of July with outdoor concerts in Central Park is different than the New York of December with ice skating at Rockefeller Center. Each time of year has its advantages and disadvantages. We've created guides for each month to help you make the most of your time in the city all year round.
Check out our monthly guides of things to do in New York with weather. Or see below to help decide when to come to New York.
Want to make the most of your time by having your day planned by an expert? Or wish to dig deeper and get a local's perspective? Book a
Streetwise New York walking tour
.
Month-By-Month New York Guides with Weather
Overview to help you decide when is the best time of year to visit New York.
The Most Popular.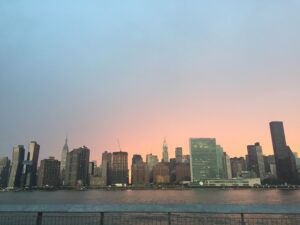 The most popular times of the year for tourism in New York in July, August, and Christmas time. A key reason is that school is out and more people have vacation time. Still, there's a good reason why New York is a big draw during these dates.
In the summer, days are long giving you time to explore the city. New York is full of energy and activity. There are daily free outdoor concerts and parties. And endless options of outdoor movies, theaters, rooftop bars. Places might be more crowded, but New York's crowds are part of the city's vibrancy and energy. Just beware it can be hot and humid.
During Christmas time, the city is full of beautiful and creative decorations, Holiday spectaculars, and the tree at Rockefeller Center. The markets and stores draw in Holiday shoppers. The season comes to an end with New Year's Eve ball drop in Times Square, with over a million people in attendance.
The Best Weather.
Weather in New York varies a lot. With luck, even the coldest months of the year, January and February,  have 50F/10C days. Likewise, during the hottest months, July and August, we may go a week without going over 85F/30C. Still, if you come in the winter, be prepared for cold and snow and if you come in the summer, be prepared for the heat (and powerful air conditioning).
For the best weather, come in late summer/early fall (September or October) or in the spring (April, May, or June). In these months, the temperature is mild. It may rain, but it won't snow. If it gets cold at night on an October or April evening, it means wearing a sweater or light coat. If it gets hot in June or September, it's manageable, not frying an egg on the pavement hot.
In general, these months are the best to explore the city (and take a walking tour!)
 The Best Deals.
The second half of January and February have the best deals. Flights are lower as are hotels. Restaurants, Theaters, and Attractions offer specials (2 x 1, discounts, etc.). Still, even with the steep discounts, places are less crowded another bonus. Of course, the downside is that it is colder and days are shorter.
There are still deals to be had at other times of the year. Restaurant week repeats in the end of July and the beginning of August. And if you're a fan of music or theater, over the summer are free outdoor concerts, parties, and theater.
Otherwise, for Savings, be flexible:
If coming to New York in the winter isn't appealing to you, you can still find deals, if you're flexible on your travel dates and search hard. Prices fluctuate throughout the year. The start of September is more expensive with the UN General Assembly Meeting, the US Open, and Labor Day. But the following week becomes more affordable. In November, the weekend of the New York marathon and around Thanksgiving are more expensive times to travel. The rest of the month is more affordable.
Prettiest Times of Year.
In April and May, the city is in bloom. Coordinate your trip to take part in New York's different Cherry Blossom festivals
In the Fall, the colors change. Many say New York in early November is at its prettiest.
If Christmas trees, holiday display windows, and decorations are your fancy then between Thanksgiving and the first week of January is the best time to visit for you.
Best time of year for Sports Lovers.
There are professional sports every month of the year in New York. Still, it is best to plan. If seeing an NBA game in New York is on your bucket list, then don't come over the Summer. If you want to watch a Yankees game, don't come in the winter.
The months with most live sports in New York are April (when baseball, basketball, soccer, and hockey seasons overlap). Then in October (baseball is in its post-season, the NBA is just starting, while Football, Hockey, and Soccer all have games).
For Tennis fans, the start of September with the US Open is a big draw. For runners, the New York Marathon, the first Sunday in November is a monumental event.
Pick a special event.
There is something for everyone in New York year-round. Coming to New York for a special event makes for a unique experience and lasting memory. Your special event may be a concert, the Easter Bonnet parade, a film festival, Halloween, or one of the many more unique New York activities.
Needless to say, if you come in for the annual Halloween Dog Parade in Tompkins Square Park, you can do activities not involving costumed dogs, but the festival will be a highlight, allow you to have unexpected interactions with locals, and be a unique memory.
Look through our monthly guides to find unique events just for you and you help you decide when is the best time of year to visit New York!.
Have any questions about traveling to New York? Or about tours with Streetwise New York? Contact us!